Phal. gigantea
('Krull's Ruby' x 'Ponkan', HCC/AOS)
Hover mouse over icons below photo to see each parent.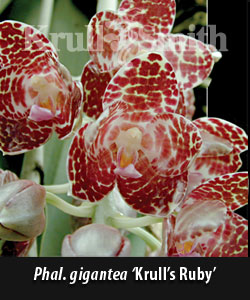 KS-PHAL03
Species/Seedling
VERY LARGE - BLOOMING SIZE PLANTS
*These very large plants are too large to ship safely and economically. Please call us at (407) 886-4134 to arrange for pickup at our nursery or at any local orchid show we are attending throughout the year.