Phal. gigantea
('Krull's Ruby' x 'Ponkan', HCC/AOS)
Hover mouse over icons below photo to see each parent.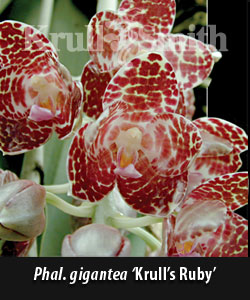 KS-PHAL03
Species/Seedling
LARGE - BLOOMING SIZE PLANTS
*These very large plants require additional care in packing, and the shipping cost is somewhat higher than any of the other plants we offer. Please keep in mind when ordering that there may be shipping costs in addition to those shown at checkout. We will invoice for only the additional actual shipping cost once the order is shipped.